Phil's Major Meltdown


Shinnecock Hills played host to the 118th US Open last week and boy did it hand out some punishment.
Defending champion Brooks Koepka held his nerve across four windswept days to win the event, marking the first time a player has gone back-to-back at the US Open since 1989.
But while the best golfers in the world were made to look like your average weekend hackers (Koepka's winning score was +1), this major will be remembered for the polarising play of Phil Mickelson.
During his third round, and on the par-4 13th hole, Mickelson found himself in a precarious position.
He had a downhill, left to right putt on a lightning fast surface, with a miss sure to result in his ball plunging back towards the despairing situation that awaited him at the front of the green.
Mickelson struck his ball and narrowly missed the hole. What happened next was as alarming as it was incredible (see below).
As you can see, Mickelson broke one of the fundamental rules of golf - you cannot play a shot while your ball is still moving.
In doing so, Mickelson blatantly cheated, and he
admitted afterwards that he knew the rule and did it on purpose.
"It was meant to take advantage of the rules as best as you can. In that situation, I was just going back and forth. I'd gladly take the two shots over continuing that display," he told FOX after his round ended.
It was amazing he avoided disqualification, with a separate rules fine print ensuring he remained in the field for the remainder for the event.
But where does this rank on the scale of sporting blunders? Was it a simple misdemeanour, solved with a slap on the wrist? Or has Mickelson tarnished his credentials as one of golf's most gifted of all-time?
He admitted it was a deliberate and preconceived action, but the fact it was made rashly, and in a split-second moment, lends me to think more leniently. I believe it was done out of frustration and due to him already languishing down the leaderboard at the US Open.
Would he have done it if he were in contention? No. Does that make it right? Also no.
Either way I think Phil will wish he had that moment again. But is he sorry he did it? I don't think so.
Socceroos cop VAR-Y average decision
The Socceroo's fifth World Cup campaign got off to controversial start on Saturday night, with a dubious penalty decision ensuring France prevailed 2-1 in their Group C clash.
In a confusing passage of play, French striker

Antoine Griezmann was awarded a second-half penalty after he was ruled to have been fouled in the box by Australian defender Josh Risdon.
The main reason the decision was contentious - r
eferee Andres Kunha awarded the dot shot minutes after the actual incident occurred after
watching a replay on the side of the pitch - marking
the first time in World Cup history a penalty had been awarded using the VAR or Video Assistant Referee.
Griezmann calmly put Les Bleus ahead 1-0, but football fans worldwide were already incensed.
The VAR was introduced to rule on four potentially match-altering scenarios - penalties, goals, red cards or cases of mistaken identity - and is only called for on the referees recommendation.
My first thought is that sport should be fair. So I am happy to introduce any means possible to ensure the contests I love are ruled fairly more often, and with that in mind VAR should be embraced. I would rather have a few moments of uncertainty in order to get the right decision, than live with a wrong call purely because people are impatient or simply willing to take the good with the bad.
Upon review however, it seems the decision to award a penalty was wrong. My limited knowledge of the exact wording of the rules means I have borrowed expert opinion to determine whether or not it was actually a penalty.
Listen to SBS's Craig Foster as he discusses the decision below, and then make up your mind on these two counts -
1) Was it a penalty?
2) Does the VAR have a place in the game?
Ponga in line for State of Origin debut
Newcastle Knights wonderkid Kalyn Ponga looks set to make his State of Origin debut after being named in Queensland's 18-man squad for Game Two at ANZ Stadium on Sunday.
Ponga has set the NRL alight this season with several best-on-ground performances for a Newcastle side languishing in the bottom half of the ladder, and if included will most likely come off the bench, filling the role Anthony Milford failed to make his own in Game One.
The 20-year-old fullback has earned rave reviews from several high profile players in the NRL this season, with many pundits saying his X-Factor qualities will make him a Queensland star for years to come.
Queensland lacked spark and speed in Game One in Melbourne, so the addition of Ponga, coupled with the expected return of Billy Slater is sure to make NSW a little restless.
The question must be asked though, what type of role can we expect from Ponga?
The utility bench position is often under utilised in SOO, and can fail to make the anticipated impact when used too late in matches.
My hope is Kevvie Walters unleashes Ponga late in the first half by shifting Hunt to hooker and giving Andrew McCullough a rest. Let Ponga play as a roaming second receiver and attack the edges of the ruck with his speed and illusiveness, and utilise his ball playing ability with the likes of Inglis and Slater outside him.
But how else can the Maroons make the most of the young mans supreme talents?
I'd love to hear your thoughts as QLD desperately try to keep the series alive.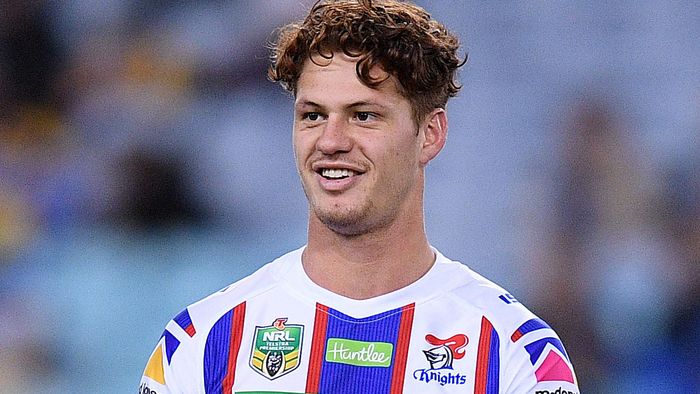 Queensland Squad for SOO2
Jai Arrow, Will Chambers, Gavin Cooper, Dane Gagai, Tim Glasby, Coen Hess, Valentine Holmes, Ben Hunt, Greg Inglis, Felise Kaufusi, Andrew McCullough, Josh McGuire, Cameron Munster, Dylan Napa, Josh Papalii, Kalyn Ponga, Billy Slater, Jarrod Wallace